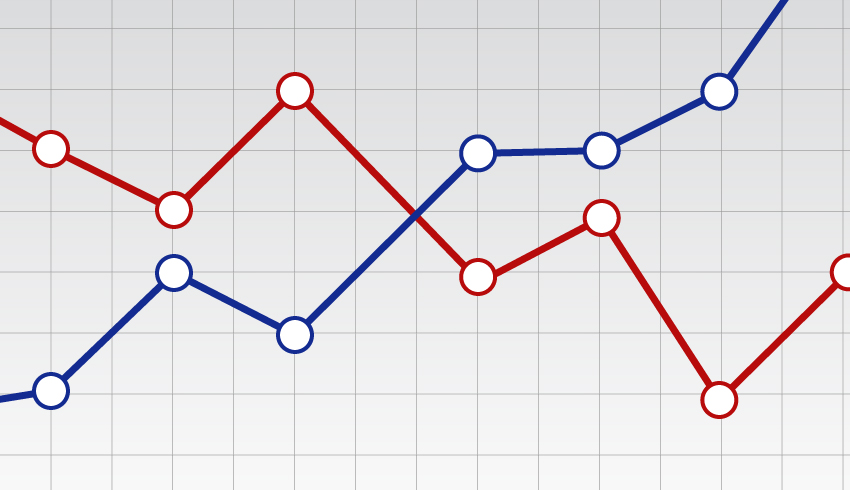 A new statewide poll of 503 active voters shows a majority of Coloradans give high marks to their home state and its Democratic governor, and have strong reservations about President Donald Trump and many of the polices and issues put forward during his first 50 days in office.
View toplines
The Keating/OnSight poll provides informative, accurate results using live-interviewer telephone (cell and landline) surveys and was Colorado's most accurate in the 2016 Presidential election, predicting Hillary Clinton would win the state by 5 points in Colorado.
What follows are highlights are from the new Keating/OnSight Colorado statewide poll conducted March 8-13, 2017:
Voters are optimistic about the direction of state and Democratic Gov. John Hickenlooper
By nearly 2-to-1, Colorado voters say the state is heading in the right direction (58% right direction – 32% wrong direction), which is certainly a reflection of their positive feelings toward Colorado's second-term Governor, John Hickenlooper. By roughly the same margin, Colorado voters are favorable toward Hickenlooper (57% favorable – 33% unfavorable).
President Donald Trump is not well-liked
Donald Trump, who lost Colorado to Hillary Clinton (43% to 48%), remains unpopular in Colorado (43% favorable – 55% unfavorable), including 45% of respondents who hold a "very unfavorable" view toward him. Opinions of Trump are distorted by voters' partisan lenses – Democrats strongly dislike Trump (12% favorable – 87% unfavorable) and Republicans very much like him (83% favorable – 16% unfavorable), while the key voting block of unaffiliated voters are hostile territory for Trump (32% favorable – 64% unfavorable).
Trump's presidency has gotten off to a decidedly rocky start, as nearly 5-of-10 Colorado voters think he is doing a lousy job: grading his performance with an F (38%) or D (10%).  A minority of respondents – 36% – give Trump an A (19%) or B (17%).
Honesty is a key characteristic for any politician, and a majority – 52% – of Colorado voters think President Trump is "dishonest and tells lies", while a minority – 40% – think he is "honest and tells the truth." Suburban voters show a decided lack of confidence in Trump – a majority (55%) of voters in the five suburban counties of Arapahoe, Adams, Jefferson, Douglas and Broomfield say Trump is "dishonest and tells lies."
Trump's problems are dragging down Colorado Republican Sen. Cory Gardner
Currently, Colorado voters are divided on Sen. Cory Gardner (39% favorable – 38% unfavorable), compared to a more positive opinion of him before Trump was elected in July, 2016 (45% favorable – 28% unfavorable).
Colorado's Democratic U.S. Senator Michael Bennet remains popular with 51% viewing him favorably compared to 29% unfavorable, which is the same as before Trump was elected in July, 2016 (51% favorable – 28% unfavorable).
Colorado voters disagree with what President Trump is saying about the media and President Obama
A majority – 62% – of Colorado voters do not believe that President Obama had the wires tapped in Trump Tower, while 20% believe it.
A majority – 57% – of Colorado voters disagree with President Trump's statement that the news media is the enemy of the people, while 37% agree with it.
President Trump's anti-immigrant positions are out of step with Colorado
A majority – 60% -– of Colorado voters oppose President Trump's plan to build a wall on the Mexican border to keep out illegal immigrants, while 35% support the idea. Trump's wall is opposed by a majority of men (53% oppose) and women (67% oppose), younger age 18-49 (71% oppose) and older age 50+ (51% oppose), and white (59% oppose) and Hispanics (70% oppose).
A majority — 53% – of Colorado voters oppose Trump's travel ban that prevents citizens from Syria, Iran, Libya, Somalia, Sudan and Yemen from entering the United States, while 42% support Trump's new travel ban. Trump's travel ban is particularly disliked by millennial voters age 18-34 (76% oppose the travel ban), while those age 65+ are supportive (56% support).
Colorado voters aren't convinced Trump's campaign communicated with Russia to influence outcome of the election
37% of Colorado voters believe Donald Trump's campaign was in communication with Russia in order to influence the Presidential election, while nearly half (47%) say they were not, and 16% are unsure.
Colorado voters don't want to repeal Obamacare
When asked about the Obamacare replacement plan recently released by Republicans in Congress, by a 13-point margin Colorado voters prefer to keep Obamacare (54%) rather than repeal Obamacare (41%). Attitudes toward Obamacare closely mirror the Presidential election – Clinton voters prefer to keep Obamacare (91%) and Trump voters prefer to repeal Obamacare (84%).
Colorado Voters want to increase the share of energy that comes from clean, renewable sources
8-of-10 voters say they favor increasing the share of Colorado's energy that comes from clean, renewable sources like wind and solar power in order to create jobs and economic opportunity in rural Colorado, while only 14% oppose it. Increasing clean, renewable energy is a pure non-partisan issue, favored overwhelmingly by Democrats (95% favor), Unaffiliated (84% favor) and by two-thirds of Republicans.
Keating Research is recognized by Democrats and Republicans alike as providing extremely accurate polling in Colorado.
This polling data is based on 503 live-interviewer telephone surveys conducted March 8-13, 2017 among "active" voters statewide in Colorado. For this sample of 503 interviews the worst case margin of error at the 95% level is plus or minus 4.4%. Respondents were chosen at random from a list of voters with phone numbers: 261 surveys (52%) were conducted on cell-phone and 242 surveys (48%) were conducted on a land line.