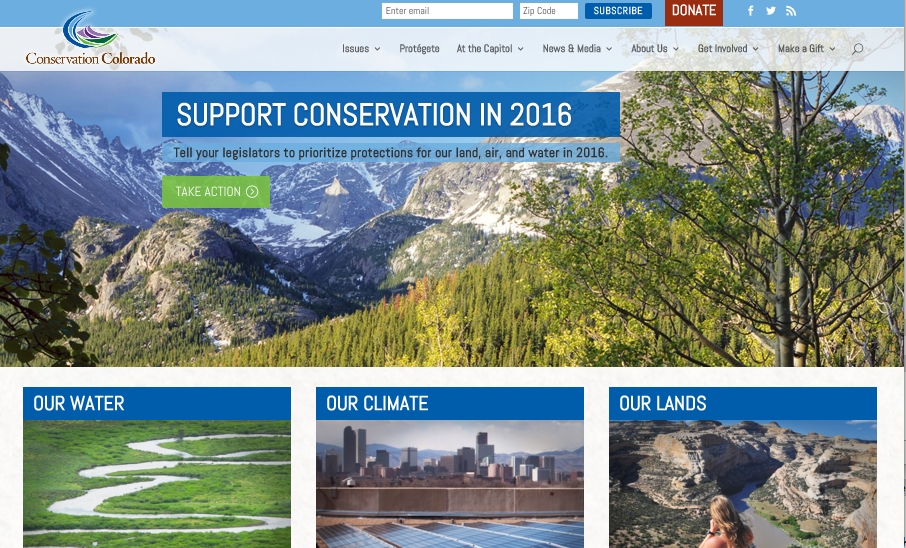 Conservation Colorado, one of the oldest and most influential environmental non-profits in Colorado, has been experiencing a growth-spurt in the past couple of years, and their web site has not been able to grow with them. They needed an upgrade to a site that could work on mobile devices, feature staff and their work, and reflect the priorities of a dynamic and quickly-growing non-profit, while also showcasing issues and events that are important to their mission and an archive of important legislative data. 
After working with their communications team over several iterations, OnSight was able to help them launch a new web site that captured all the organization's existing blog posts, press release and related documents archives, and other key components, while allowing the site to grow creatively and remain fresh for years to come.
The new site includes:
A new homepage featuring priority items in the slider, and highlights key program areas above the fold;
Below the fold the homepage is updated dynamically with blog posts and event listings;
Email signs up, social media, and contact options are highlighted on every page;
Individual campaigns are modular, so they can be managed by individual staff, and can be sorted by issue. Recently successful campaigns highlight the organizations rich history and active work;
Issue pages aggregate general information, individual campaigns, recent successes, related blog posts, and relevant staff;
Bill tracker allows for at-a-glance updates at bills the organization is working on at the state legislature;
Legislative Directory tracks pro conservation legislators, and allows citizens to easily contact legislators on issues of concern;
Blog posts feature staff, images, and important news;
Staff directory brings the faces and contact information to the forefront;
Action forms and  integrated with the site;
Pages with a lot of information have been consolidated using tabs and icons for ease of use and to reduce scrolling on mobile devices;
Donate forms are one a single page, and options have been simplified;
Events listing makes it easy to get involved with the organization;
Tabs are utilized to provide important information for digging deeper or taking action on an issues;
The site is fully mobile and tablet responsive.